With startups and foundations exhibiting alongside galleries, Art Dubai Digital proposes another model for the art fair, and myriad possibilities for digital art's place in culture.
Whatever resemblance Art Dubai Digital bears to the rest of the Art Dubai fair is purely formal: there are exhibitors showing artworks in booths. Beyond that, the contrasts multiply—the types of organizations exhibiting, the kinds of work they're showing, the ways in which they are for sale (or not for sale). The sixteenth edition of Art Dubai, open through March 5, has dedicated a section to digital art for the second year in a row, this time organized by curators Chris Fussner and Clara Che Wei Peh. Art Dubai Digital stands apart from the fair's main halls, tucked in a basement of a luxury hotel, and the distance gives visitors space to fully appreciate its differences.
At a fair, art usually looks like a finished product, ready to move into collectors' homes and storage units. But digital art can be mutable, flexible. You can acquire something that will unfold and grow. The most vivid example of this at Art Dubai Digital is Solimán López's Introns (2022), presented by elementum.art, a Swiss producer of curated NFT drops. Visitors can pick up a free NFT at the booth, which includes instructions on how to receive a DNA sampling kit. Return a saliva sample, and your DNA will be encoded in a 3D digital sculpture, running López's algorithms to represent fifteen biologically determined traits—dopamine levels, muscle density, and risk aversion, among others—in animated geometric forms. There's an option to buy physical sculptures to house the bioportrait once it has been minted. I can't comment on the science behind Introns, but López's concept cleverly stretches the logic of the PFP, forming an indelible, bodily connection between the artwork and the holder.
Several of the displays at Art Dubai Digital are engineered to create an impression of perpetual motion, of living art that never rests. Tokyo's Shun Art Gallery is showing Yoichi Ochiai's agitated coils of neon color. Ochiai uses analog synthesizers to distort and amplify digital animations, and he plays the re-digitized results on high-contrast LED screens. The fluidity of the animations gets sharpened by the grit of the screens' visibly distinct pixels, yielding a surprisingly visceral experience. A warped, silver cylinder slowly spinning in the booth's center catches the moving light and color, adding another, immediate layer of distortion. Art in Space built a scaled-down version of their gallery for immersive installations in downtown Dubai to present ambitious works on a curving screen. On opening night it played Orkhan Mammadov's Eastern Promises (2023), documentation of a GAN training itself to recognize and reproduce the tropes of European paintings of Middle East scenes. Sand-colored markets and gold-bedecked dancers morph through successions of duplicates as overlays of white squares and text show how the software pinpoints, measures, and categorizes the details of the paintings in Mammadov's database. There was an intriguing dialogue with the booth of Gazelli Art House, a gallery with venues in London and Baku, across the aisle. Gazelli is presenting Brendan Dawes's hypnotic series Persian Dreams (2023), which transforms motifs of Iranian art with motion-capture choreography and AI-powered animation to create images that flicker between figure and ornament. Mammadov applies the analytical methods of the digital humanities to comment on Orientalist cliches of the nineteenth century, while Dawes plumbs older art native to the Middle East as raw material for computers to "dream" of.
Digital art can be mutable, flexible. You can acquire something that will unfold and grow.
The twenty-one exhibitors at Art Dubai Digital have taken a variety of approaches to installing media art, from Ochiai's bold use of high-contrast screens to the impressive immersive set-up of Art in Space. At the booth of Unit London—which features works by big names in the NFT world like Tyler Hobbs, Krista Kim, and Zach Lieberman—the monitors are backlit with a soft golden glow. This halo somehow makes digital art both more substantial and more ethereal, focusing the gaze on the work while diffusing the hardware's hard edges. Some galleries pair physical and digital versions of the same project for more tactile presentations. Windows Project, a gallery in Tbilisi, offers Uta Bekaia's ceramic sculptures of fanciful animal characters on plinths below Denis Davydov's dynamic animations of them. The walls behind the monitors playing Dawes's Persian Dreams are printed with pale specters of the imagery, emerging from the black paint. Of course, a good portion of exhibitors chose the most predictable option: they hung their booths with identical screens and loaded them with jpegs. The NFT fund 6529 is using such a set-up to show highlights of their collection, including one-of-ones by Xcopy and outputs of a generative collection by Matt DesLauriers, as well as CryptoPunk #6529. They seem to want to elevate their namesake Punk to the status of an icon, and yet they didn't find a screen that fits its aspect ratio. The hoodie-wearing character looks awkward, a square floating in a rectangle.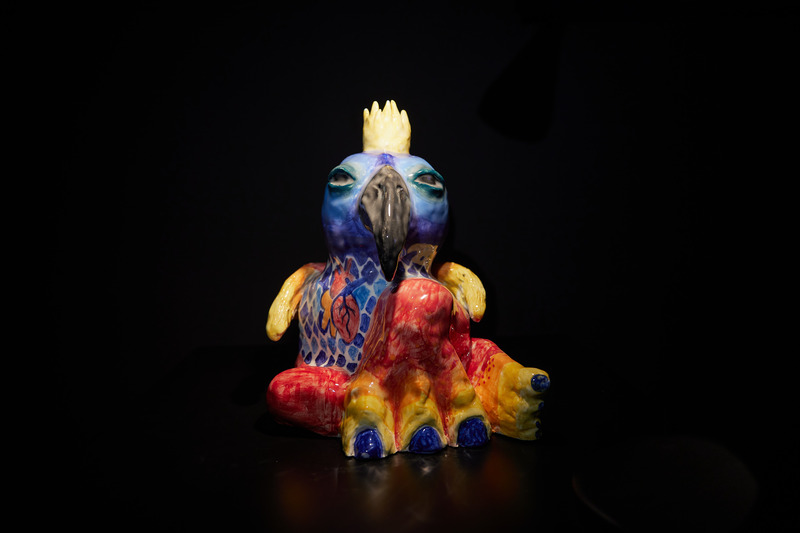 A dealer showing at Art Dubai Digital for the second consecutive year told me the quality of the audience got worse. In 2022 people came to buy. Now visitors gawk and ask what NFTs are, how digital art is sold, what collectors do with it. Blame it on the bear market, but the structure of Art Dubai Digital seems designed to welcome this type of visitor. About a third of the exhibitors aren't there to sell. Private collections like Lian Foundation are there to educate and raise awareness. 6529 traveled to Dubai to find investors and like-minded believers in the metaverse. Nonprofits are a normal presence at art fairs, but they're often sequestered in special rows, with small booths suited for distributing prints and tote bags. At Art Dubai they are sprinkled among commercial exhibitors. The organizing principle is the medium of the art shown, rather than the type of the organization showing it. But this is what makes Art Dubai Digital an exciting environment to experience digital art.
Art Dubai Digital doesn't offer a clear, singular picture of digital art's future.
The diversity of exhibitors reflects the diversity of paths that digital art can take as it moves from the artist's studio to audience: elementum.art is an affiliate of Tokengate, a company that supports blockchain applications in real estate, finance, gaming, and other fields; Wizara is an artist-run creative studio based in Cairo that produces a festival of Arab art in New York. (There are a lot of ways that painting and sculpture can enter people's lives, too, but you don't usually leave an art fair with that impression.) Art Dubai Digital was initiated to burnish the brand not only of Art Dubai but of Dubai itself as a laboratory for the future, a city that builds free zones for media startups and embraces blockchain for use in municipal government. But Art Dubai Digital doesn't offer a clear, singular picture of digital art's future. Instead, it revels in the messiness of the present and its multitude of possibilities.
Brian Droitcour is Outland's editor-in-chief.
---