Christopher Coleman is an artist working with video, sculpture, creative coding, and interactive installations. Over the past two decades, his work has been included in festivals and exhibitions in more than twenty-five countries. He is also a professor of emergent digital practices at the University of Denver. In addition to his work as an educator and his own artmaking practice, Coleman provides support to other artists and technologists in various ways: he serves as director of the University of Denver's Clinic for Open Source Arts, publishes tutorials on different software that are made freely available on platforms like tz1land, and builds long-lasting relationships with artists as a collector. Below he discusses his experience exhibiting the digital art collection that he is building with his wife, artist Laleh Mehran, which in the last two years has expanded to include NFTs as he's become an active member of the Tezos community.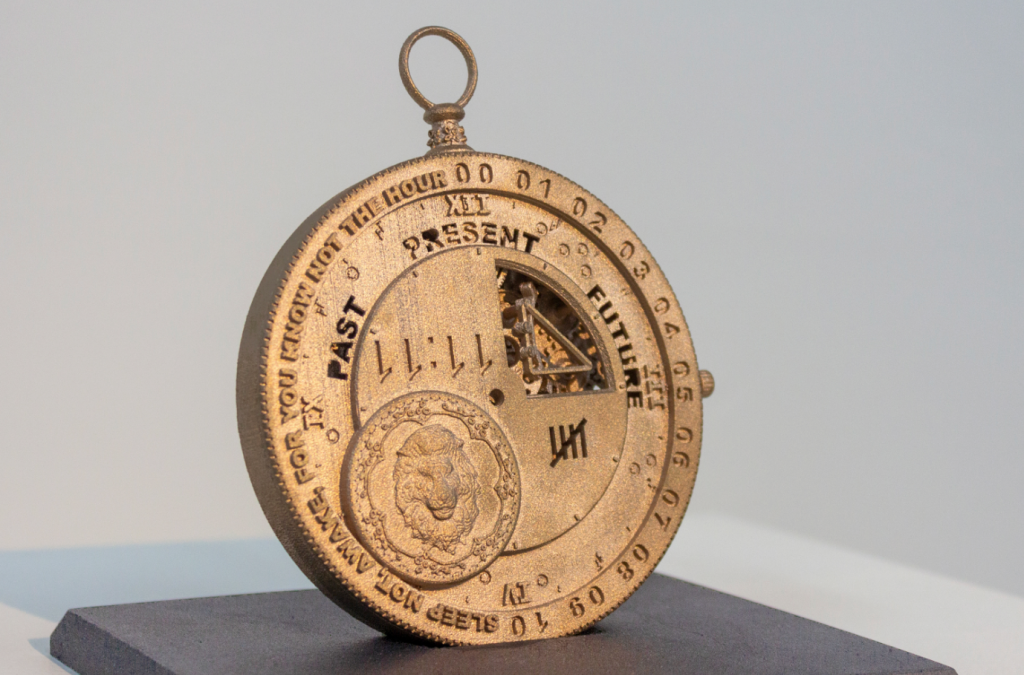 My interest in collecting digital artwork started when I was in graduate school at SUNY Buffalo. A lot of my professors there had been connected to Carnegie Mellon University and the Critical Art Ensemble, and during my time there I was introduced to a really critical sense of media studies that ended up having a huge impact on my career. One of the tasks I was assigned as a TA was to convert piles of VHS tapes to DVD of digital art that my professors had collected over the years. During that process I got to see hundreds of artworks, films, and performances that were nearly lost to time. I kept copies of all of those files on the side, because I saw value in preserving them.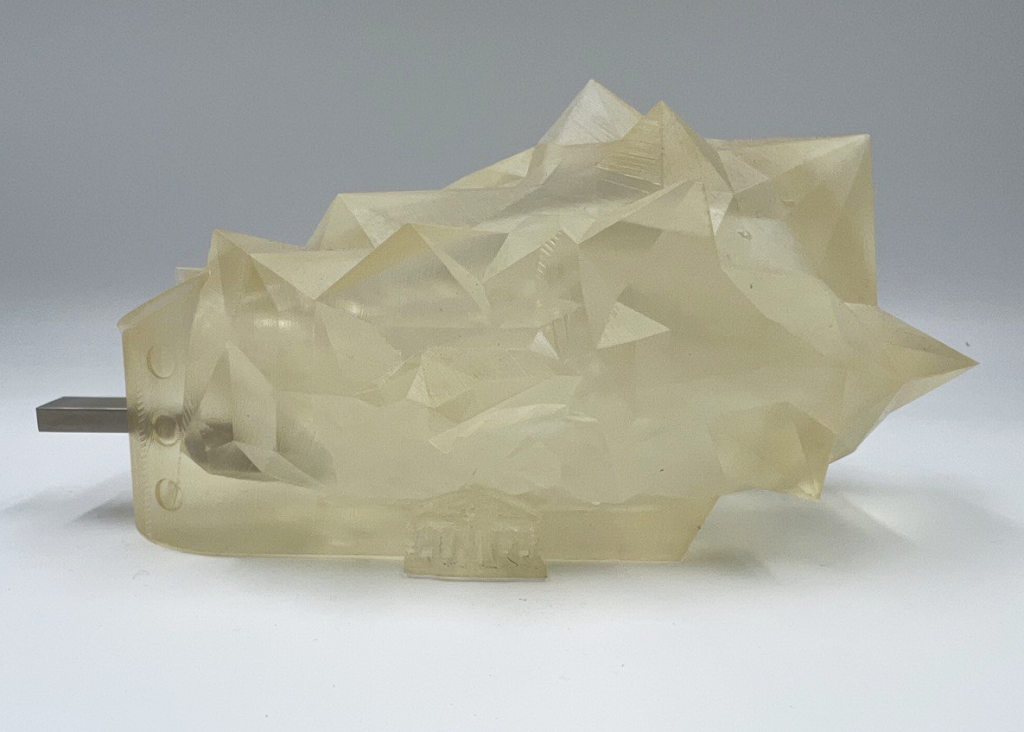 Then, when I started to have a little bit of expendable income, I started collecting on a small scale by supporting Kickstarter projects for galleries and digital exhibitions or donating to Rhizome fundraisers. I'd kick in a little bit of extra money to get the collectible. The notion of supporting artists at all levels is really tied to the ethos of why I collect, because collective support at a small scale can lead to major things happening for artists' careers, especially in the digital art space. For example, I made some small donations over time to DiMoDA (Digital Museum of Digital Art), founded by Alfredo Salazar-Caro and William Robertson. When the time came for them to release a physical object in 2018—a 3D model of the museum with a flash drive inserted that included all of the files to run the museum—collecting it was a no-brainer.
I've continued to support artists through small purchases, and I've also begun purchasing work from galleries and from older collectors who were selling some of their work. More and more—especially with the advent of NFTs—I've been buying directly from artists with whom I've built personal relationships by attending conferences and through online interactions. One of those artists is Sterling Crispin. An early introduction to his sculptural work came when we were in a show together at the MCA Denver in 2015. We became close over time, and last year I was able to collect the work No Fate (2019). I'd been coveting it for years after watching his process on social media, and it was recently made available as an NFT with the physical sculpture included.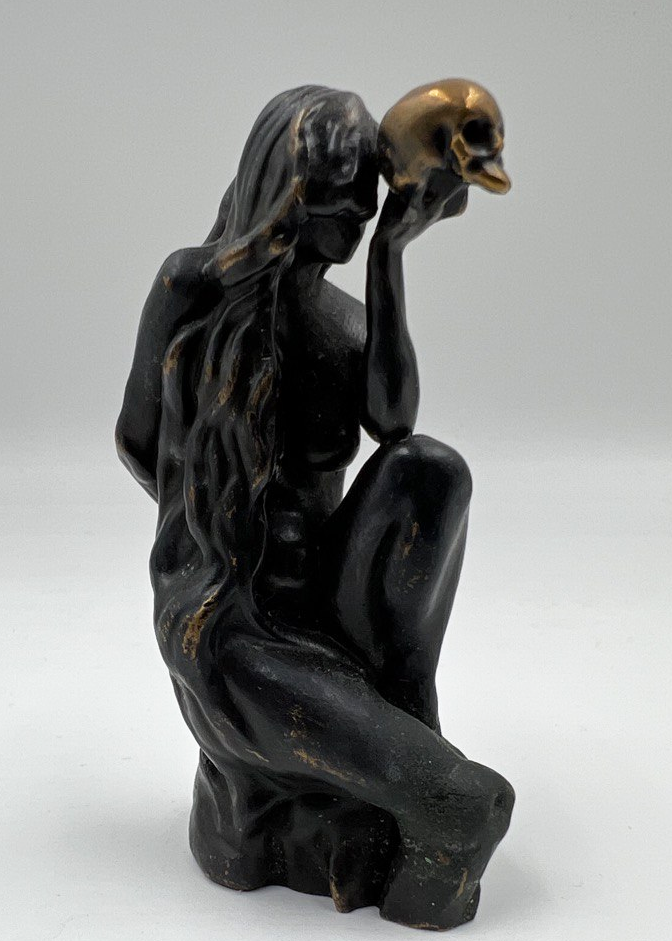 Auriea Harvey's Magdalene (contempt) is from an early editioned series she made with bronze. It was made in 2017 during her transition away from video games and her return to drawing and sculpture. I already had quite a few of the early artifacts from Auriea and Michaël Samyn's influential game company Tale of Tales. By selling these smaller sculptures over Instagram, she was able to support her experimentation with different elements of the medium, and since then I've been lucky to collect more pieces of hers.
We're currently in an amazing moment where I'm able to watch so many artists I care about experimenting and succeeding in new forms and spaces. The ease of collecting from artists online is important, too. To be frank, I've approached many of the famous galleries over the years to talk to them about acquiring works and they wouldn't give me the time of day because I wasn't a high-profile collector. This is the first time—beginning with pre-NFT marketplaces like Daata Editions and Sedition Art—I've been able to just log in, browse new work, and acquire it. It's changed my view of how an economy of digital art could exist.
In addition to availability and access, I'm also excited about the explosion of experimentation and playfulness over the last year and a half. I started out with NFTs in the Hic et Nunc community, and was very impressed by the community coming together after its collapse to create Teia. Deliberate decisions were made to embrace the internationality of Teia, and find ways to not just focus on the United States and Europe like the majority of the art world does. I'm also involved in a space called tz1land, which is Tezos's answer to the metaverse. I've done some tutorials there, and have seen from its early initiation how the community found ways to build a platform collectively.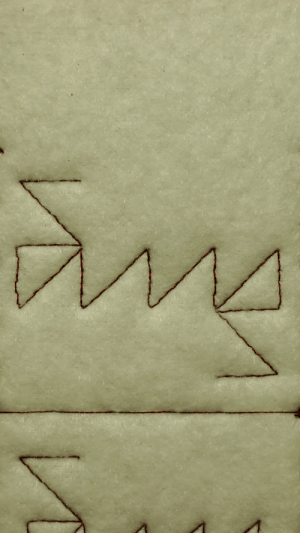 I'm interested in how these new institutions and technologies are formed, and in thinking about how we can start to build them in healthier ways. That's related to my work as director of the Clinic for Open Source Arts (COSA) as well. COSA started formally in 2019 with a grant from the Knight Foundation, but carried on work I've been doing since 2015. We support projects and give microgrants to help improve things like documentation for open source projects, or host help sessions. We recently did an interesting training session for community leaders, to think about what it means to onboard new leaders for these different open source communities. This fall we're hosting a conference funded by the National Endowment for the Arts focused on contributors to open source projects. Huw Messie's The Boxer (2021) is the genesis from his series of procedurally animated embroidery, and is in my Tezos collection. COSA helped fund the writing of the software that converts Processing sketches into embroidery files, a tool which Golan Levin saw the need for and fostered at the Frank-Ratchye Studio for Creative Inquiry.
In terms of displaying my collection, I deeply appreciate work that's just digital, but I also think there's something to be said for living with physical objects—there's nothing like the feeling of walking from the kitchen to the living room and experiencing something amazing on the way. So we found ways to fill our house with the digital work we collect. In addition to digital prints and plotter drawings, we have around ten Infinite Objects devices playing artworks on loop. One thing I love about collecting NFTs is that I've been able to acquire a lot of rendered objects and GPU-heavy generative work, so I built a powerful custom computer that plays work on a 60-inch gallery-style screen. Every morning I get up and pick a different artwork to play on it. It's unfortunate that it still takes someone with a high level of technical know-how to be able to properly manage, care for, and exhibit these works, but I think we're getting there, and I really respect the artists who are constantly pushing what's possible with the available hardware.
Kelly Richardson is one of those digital artists working on a large scale in addition to participating in the NFT communities. She's doing complex and conceptually deep work, and traditionally has done giant video installations at museums and galleries. Now she's making short videos and animations as NFTs, like Pillars of Dawn (III) (2021), which is in my collection. I first encountered her work in this smaller format, and since we're both artists in the space we've had many conversations about how to balance our different practices. I've learned so much from her, even in thinking about my own work. She reminded me that the smaller-scale NFT works are real art too, and it is okay to let them be different—they're like musical notes that can stand by themselves, while also being part of a bigger song. Making room for different time scales of production is essential even as this new market is driven by high speed hype cycles.
—As told to Lauren Studebaker
---