Named with a portmanteau that combines "edit" and "curatorial," the Edicurial Collection was established in March 2021 with the aim of providing an introduction to contemporary digital art for people active in the traditional art world. The founder is a patron who collects NFTs under the moniker Elsie; she works in close collaboration with Fanny Laboukay, an art advisor specializing in NFTs. Edicurial focuses on emerging artists and represents a wide range of styles and genres of digital art, from Linda Dounia's trippy abstract animations to Osinachi's wry narrative figuration. The collection's website includes short curatorial texts about most works, providing more background than the marketplace environments where these works are usually encountered. Elsie spoke to Outland about her love of digital art and her efforts to share it with peers and colleagues.
For the last seventeen years, I have been working for a nonprofit historical conservancy that protects architecture and stewards a collection of nineteenth-century and early twentieth-century art from the Hudson River School. We take care of the paintings that we already own and also seek out paintings that have been lost over the years so we can bring them back.
In the late 1990s I studied contemporary art and design at the Victoria and Albert Museum in London. So I have always been an art lover. Things I've collected in the traditional world really run the gamut: old portraits, intaglios, early photography. I buy what I love—that has always been my mantra. When I learned about contemporary digital art and NFTs, something set off a spark for me. I have been focused on that for almost two years now. The space is quite different. The spirit of inclusivity and artists' willingness to form relationships with collectors have been really important to me.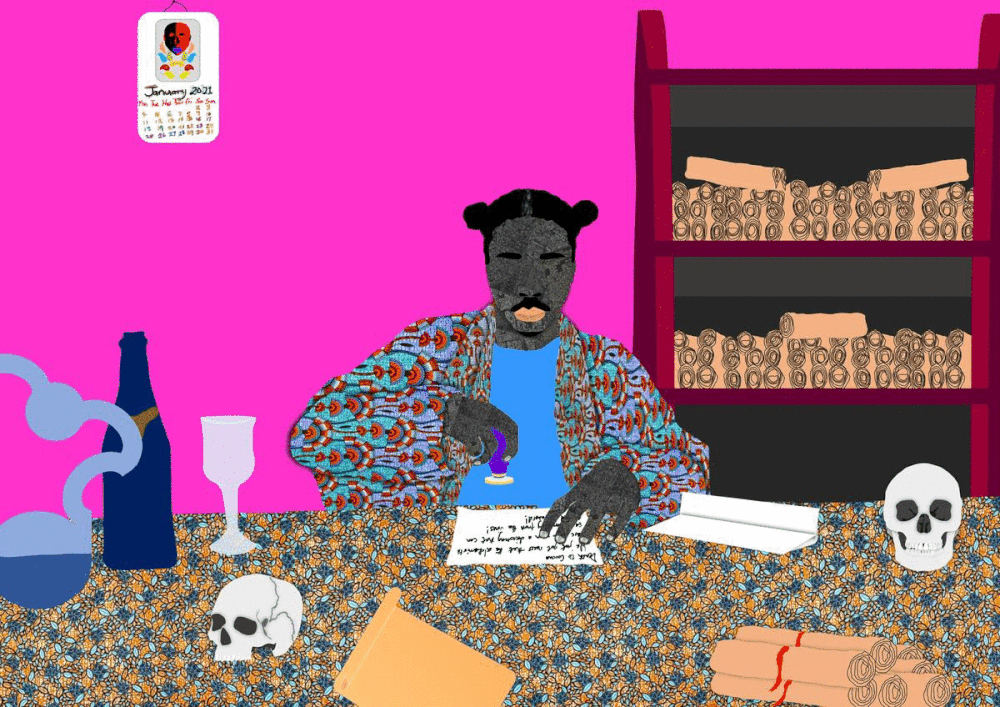 Edicurial is hoping to provide a bridge between the traditional art world and contemporary digital art. Most of my friends and colleagues from the conservancy are seriously trained academics. I'm fifty-two, and many of them are my age or older, so it's a big leap for them to make. Our educational efforts have been on a relatively small scale so far, but we're hoping to advance them further in the next year. One thing we've done is publish a coffee table book of the collection. That may sound simple, but when people come over, I can present the collection in a format that they'll understand. It's a book, it's tangible, it's a way of looking at art that they're familiar with. It gets them in a comfort zone where they can tune in and listen to what the art is about and hopefully develop an appreciation for it.
There are certain pieces that get a positive reaction. People tend to react more negatively to works in what you might call a more crypto-native style, by artists like Max Osiris and Xcopy, along with PFPs. They just don't understand how that is art. You have to understand the meaning behind it before you can appreciate it. Osinachi is an artist whose work seems to appeal to traditional art collectors. I first came across him on SuperRare, and then acquired a work through Kate Vass Galerie. One of his works in the collection—it might be in my top five favorites—is called The Alchemist (2021). A figure is sitting at what looks like a kitchen table and putting wax seals on a scroll. The calendar behind him says January 2021. I started collecting NFTs in the middle of Covid, and I think this work really captures that moment in time. Osinachi makes work entirely in Microsoft Word. He's Nigerian, and his subject matter is not always well received or tolerated there. So I'm inspired by the risks he's taking. The earnestness and sincerity behind what he's doing are what give his work such wide appeal.
Collecting across a variety of styles, I look at the story behind a piece. What is the artist trying to communicate? Do I feel a connection to that in some way? Am I inspired by it? I have tried to focus on female artists, underrepresented artists, emerging artists. Linda Dounia and Zareen Fava are two women I discovered via the cohorts of Vertical Crypto Art's residency. Then there are more OG artists who have been in the space for a long time, like Sparrow and Angie Taylor.
It's a very wide range. But I think these artists are eventually going to be major players. I'm in a privileged place to be able to collect directly from these artists. I feel like it's almost a responsibility that I have. I might not collect as many NFTs as the whales, but this has made me feel like I've been able to contribute to a space that I care deeply about. I have not sold one piece since I started collecting and it has never been something that I wanted to make a profit from.
The Edicurial website presents the collection in a way that is hopefully comfortable for the viewer. Each collection page displays up to forty-five works, ordered alphabetically by the artists' last names. It was important to include some writing about the work, to add some context around it. Marketplaces don't often have in-depth documentation, so we've tried to provide that as a learning tool for others. I'd love to create more thematically organized presentations on our website. For now, we've used platforms like JPG that allow for more curated presentations.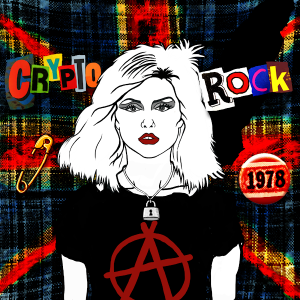 When I started working with Fanny, Hackatao was one of the first artists she mentioned. She had a print of theirs hanging in her office. Hackatao is a husband-and-wife team, which I thought was super cool, and the work is so incredibly beautiful but also humorous. One piece I really love is called Queen of Colors (2021). I feel like she's the muse of the Edicurial collection. She's an artist and she's dipping her paintbrush in a can of paint, and there's just something about it that spoke to me. This may have something to do with my age, but at first I was not so keen on having something that looks profane—she's topless and not in a classical sense. But now I don't even see it. That has been a growth experience for me.
Operator is a duo coming out of performance art and dance. I absolutely love their work—it's so profound, ethereal, and elegant. Attempt 4 (2022) comments on privacy in social media. It shows Ania Catherine, one half of Operator, dancing with this glowing avatar that passes across her silhouette. She has her hands in front of her face. I struggle a bit with the fact that I am anonymous in the NFT space, and this work speaks to how I sometimes feel. I love the people I've met in this community, but do they know the real me? Am I doing the right thing by hiding?
I've always taken a long-term view of this space. I know it's in a rough place right now. But I think the real use of blockchain for art is going to show itself in the next couple of years. The Edicurial manifesto talks about the NFT boom of 2021 as a "speculative glitch," a term that Fanny coined. It's something she has used in reference to the Beeple sale, which is over-referenced and used against the crypto art space, because the 69 million USD figure hasn't been reached since. Cryptocurrencies will go up and down. Crypto art is linked to them, because it's priced in ETH, or XTZ. But there's a cultural value that will remain. Recently, my collecting activity has slowed down—the last thing I bought was Frank Stella's Geometry XIII (2022) at the end of September—but not because I don't believe in the space anymore. We're taking a moment to evaluate where we are and then we'll continue to move forward.
—as told to Brian Droitcour
---