Digital art coexists comfortably with painting and sculpture in the Miami home of Pablo Rodriguez-Fraile and Desiree Casoni. In the entryway, Elizabeth Peyton's portrait of David Bowie hangs opposite Beeple's depiction of a nude, fleshy Buzz Lightyear straddling a Koons balloon dog. Furniture designs by Andrés Reisinger preside both as virtual objects in limpid animations and as lumpy, comfy things to relax your body in. The juxtapositions make screens and digital art feel domestic and homey. Rodriguez-Fraile, an investor and financial advisor, has been a major player in the NFT market, purchasing works by artists like Beeple and Pak at high-profile auctions. He is now expanding his efforts to help the space evolve. During Miami Art Week, he launched a new NFT marketplace called Aorist, offering a dozen works by Nancy Baker Cahill, Auriea Harvey, and others. Below he discusses his and his wife's collection and the founding principles of Aorist.
I grew up around culture. I'm married to an architect and designer, so our house is constantly evolving. I'm always surrounded by new art. My professional life has led me to be very involved in the blockchain space. I stumbled across NFTs early, and I merged my two passions.
There is some difference between how I operate in the traditional art system and in the digital art system. I rarely purchase digital art for the collection if I don't know the artist very well. In the traditional space that direct contact is much rarer because there are more steps along the way to find a connection with the artist. When it comes to digital art, we've fostered relationships with artists and helped them with their career: assisting with PR communications, introducing them to collectors, fulfilling the roles that other institutions play in the traditional art world. We want to build a legacy to help the space move forward, so the relationships we have with these digital artists are not merely transactional.

But the basic principles of why I choose a certain work remain the same. I look for an artist who is the highest expression of a particular style. We've been able to put together a significant collection, with the most iconic works by the top creators in the space.
The first work of art I encountered in this ecosystem that really gave me the feeling there was something special here was by Pak. I was the biggest participant in their Sotheby's sale in April. I obtained The Cube, the single edition, by buying the most Cubes from the open edition. That's one of my favorite pieces. I have other works by Pak that are really special—one called Fade, which I also purchased at Sotheby's, but not in that same release, and I'm the owner of Pixel, both Alpha and Red. Those are in my opinion the essence of the digital. It's so conceptual, it's so minimal, it's so Pak.

Refik Anadol utilizes many fields of knowledge to create something truly innovative. He's not just an artist, he's a data scientist. Most of his works are based on data that has been run through AI. It's groundbreaking.
I like Beeple. I think Beeple is very special. He has all the virtues that are necessary to succeed in the space. He is very disciplined. He's very creative. He speaks well about everybody and everybody speaks well about him. He has a lot of positive energy. He's one of the few people in the world who can actively comment on society while having an artistic practice. If I had to choose a favorite work by him it would have to be Crypto is Bullshit, which represents his first release on Nifty Gateway in 2020. I think it fundamentally represents the digital art ecosystem. I purchased another work at that auction for 66,000 USD.
The other artist I feel very close to is Andrés Reisinger. I love the conversation he creates between digital and physical. His work is about aesthetics and pure artistic creation, more than commentary and innovation.
Our collection is not focused on any particular style. We don't focus on programmable or minimal or conceptual. We try to get behind the artists who are the highest expression of their particular skill set.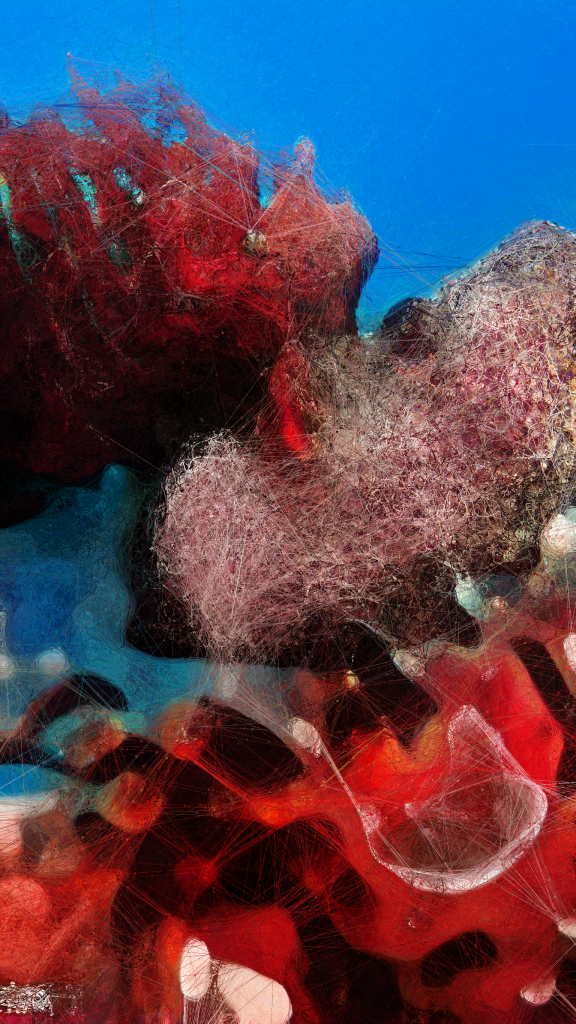 There are two and a half massive problems that prevent NFT collection from going mainstream.
The first is user experience. Blockchain tech is very difficult to operate. It's expensive and slow. In many cases it's risky. The infrastructure just isn't ready yet for the average person.
The second problem that we have is curation. Once works are on the blockchain, there's not much support for them in terms of editorial, curation, social media, community engagement, exhibitions. On one marketplace you can have some of the best artists producing the artworks that are going to be the most important ones of our age, and then next them some photo with a filter. I'm a huge fan of freedom of expression—I think everyone should have a space for that. But the digital art ecosystem would certainly benefit from a little more curation.
And then the third problem, which is the biggest problem, but only half attributed to artists and collectors, is that Ethereum is not environmentally friendly. That's a barrier to the space. It's something we all need to work together on as an industry.
Aorist is an attempt to solve those problems. It's on the Algorand blockchain, which is proof of stake, and works are priced in USD. It presents a small selection of the most important artists working in the field. It's a legacy project. It's not how I make my living. I'm fascinated by the incredible creative drive we're seeing in digital art, and I am grateful that I can add my grain of salt to improve the experience for everybody. NFTs have gone down the route of commoditization, more so than traditional art. I want to make sure there is always a spot for those who are fundamentally behind the art and the culture, rather than the promise of making money.
—As told to Brian Droitcour
---