In 2020, artist and curator Malcolm Levy cofounded and directed the Refraction Festival, an online event celebrating electronic music, visual art, and internet culture that brought together an international creative community during the Covid-19 pandemic. The next year, Refraction made the decision to become a DAO to further their goal of fostering collective experiences in the form of festivals and exhibitions. In addition to creating a broad network of artists, musicians, technologists, community leaders, and activists, Refraction DAO has established an NFT collection, which is a central component of how it builds value for its members. In the following text, Levy discusses work by Refraction's founding artists, the DAO's membership model, and the importance of collaboration.
Before it became a DAO, Refraction started as an online arts and music festival in early 2020. It was a very tough time for artists and musicians, who were used to being involved face-to-face in communities, performing live and having exhibitions. No one knew what would happen, and so people began reaching out to me about doing events online. Previously, I had been working on curatorial projects for the New Forms festival and the International Symposium on Electronic Art (ISEA), among others, so it made sense to use that experience I'd gathered to create something new, with a lot of encouragement from friends in the scene. The first year of Refraction, which combined online music performances with digital exhibitions, went incredibly well. There was quite a bit of press, and the audience and artist responses were positive.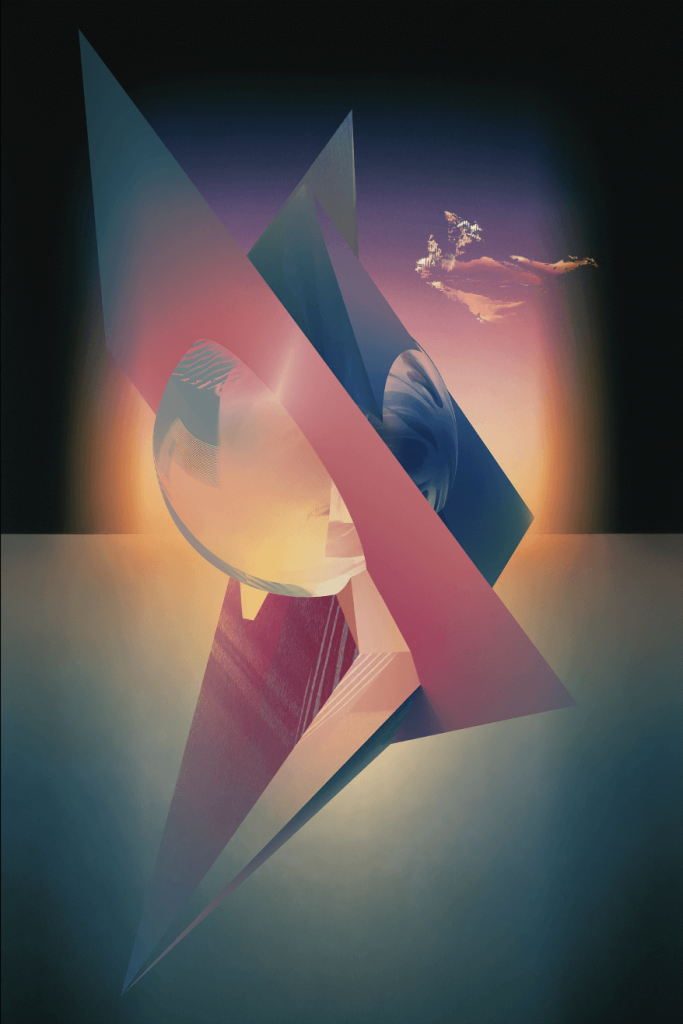 We continued work through the pandemic, and then we saw the digital art community go through a wild shift at the beginning of last year. I've been an artist and curator in the digital art community for a long time; this was the first time where work was being collected rapidly. It was an incredible experience in terms of sheer sales volume and exposure, especially for artists that had been influential in the community who were now being recognized on a larger scale. After I minted a number of my own works that were quickly collected, I was excited to start collecting other artists' work. I started collecting work, mostly on Tezos, but also on Ethereum. Through that, I started hearing about DAOs. The first people to discuss them with me were Jess Sloss, who runs Seed Club; Kelani Nicole of TRANSFER; the artist Mat Dryhurst; and Priyanka Desai of Flamingo DAO—all of them said that the future of community online would. be in the form of DAOs. I've always believed in artist-run culture—I consider a broad range of creatives "artists"—so it seemed to make a lot of sense to pursue forming a DAO. I spoke to two friends who I've worked with over the years, Greg Liburd and Raf Katigbak, both of whom had a lot of experience with web3 community and creative direction, and asked them to help co-found the DAO. From there, I began reaching out to artists—who became our founding artists—and collected their work. Each artist we collect is given governance tokens and immediate membership, and has a say in future collections and decisions from the group.
The truth is that during the time when the DAO was founded, things were happening in the NFT space that I didn't fully understand. I was concerned about the popularity of flipping and of PFP projects, and the accusations of misconduct and racism surrounding some of the bigger projects. So when we decided to open up membership, it was in a very measured way. New members and artists have to apply through a membership form, and we have an approval system. There's no buy-in at this point; if you're accepted, you receive tokens. A lot of the people applying when we first opened up were artists we were already planning to reach out to—and maybe they were already in the collection—so things felt really authentic and invigorating. This past April, to celebrate the creation of the DAO, and to fund our membership model, we editioned works from our founding artists and released them as part of our "Season 0" NFT drop.
A lot of the founding artists were active in the digital art community pre-NFT. One of those artists is Yoshi Sodeoka, whose work I've loved for a long time. He has an expansive practice that ranges from making visuals for publications like the New York Times to creating art for musicians like Tame Impala. The work in the Season 0 drop, Wetwear-Amygdala (2022), is part of a series he'd been making for a few years. Dina Chang was a big force on the collection and curatorial side of Refraction DAO; she and Tim Saccenti make up Setta Studio, which contributed the work Bikkle (2022).
Having Cibelle Cavalli Bastos as part of Refraction has been incredible. Their work 09f369c1a5fc-41e9-8c19-f50256bdb7be (2022) represents not only their use of abstraction, but also their experimentation with AI and performance. Within the scope of the Season 0 drop, there was definitely a tendency towards abstraction that emerged naturally. Artists would see what the others were working on, and ended up creating works that reflected the ongoing conversations in the community, which was special. Ellie Pritts's Primal Acid (2022), which speaks to the glitch culture and aesthetic that is prominent right now, is an example of that. We were trying to challenge the artists curatorially by encouraging them to do things outside of their comfort zone, too. Claire Silver's Anthropogeny (2022) was one of the first abstract works she ever released.
P1xelfool created a very special piece for Season 0, :hau-b (2022), which was also the first work Refraction exhibited in person, during an event we did with Friends With Benefits. Not only is the work beautiful, but it's also important to the collection because it represents the emergence of South American artists within the NFT movement. Another collaborative project we did with a founding artist was a show curated by Linda Dounia in partnership with Carnegie Hall's Afrofuturism Festival in 2022, which focused on matriarchal societies in Africa.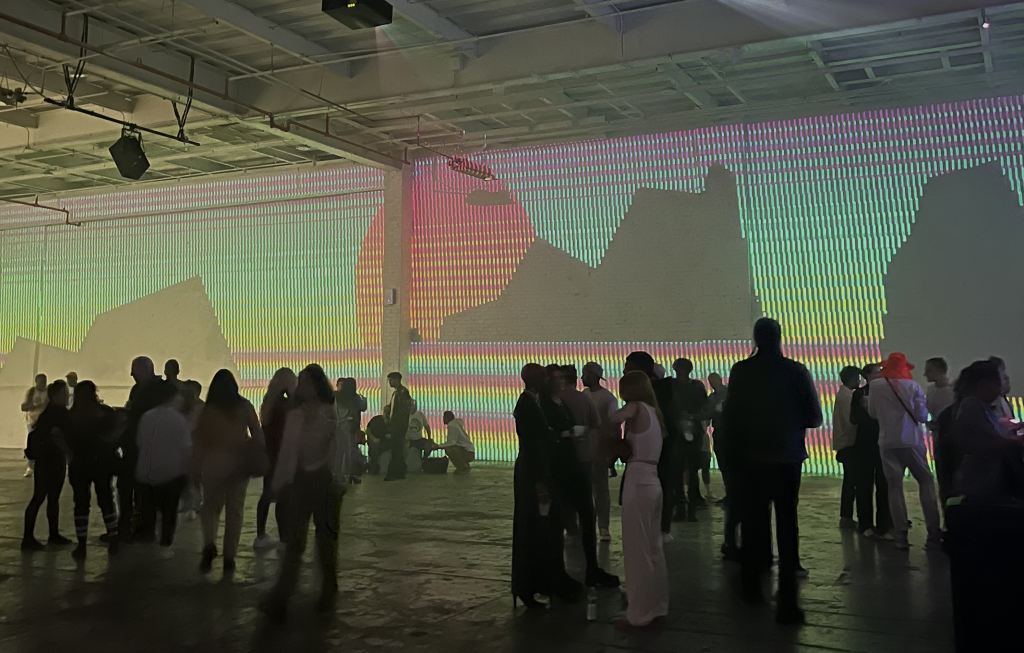 Many of these artists participated in the iteration of the Refraction Festival that just took place on June 22 at Zero Space in New York. It featured a series of musical performances and an exhibition of about 70 artworks. The exhibition was designed by Craig Barrow, and consisted of a mix of projections, screen-based work, as well as prints—all work that exists in Refraction's collection. The variety of presentation methods was meant to speak to the specific aesthetic qualities of each individual work. The show included Nicolas Sassoon's "ISLANDS" (2022), created in collaboration with the musician Yu Su. It consists of four digital works that can be brought together as one large panorama. It was cast across the back of the performance area, where artists including Aluna and LATASHA performed. These collaborations between artists and musicians really speak to the ethos of the DAO and its community—we're blown away by what everyone has contributed, and really looking forward to what comes next. 
—As told to Lauren Studebaker
---