The art world gathered in sunny California last week as Frieze Los Angeles took place in Beverly Hills. The Outland team joined in on the fun, organizing a series of conversations for an event at NeueHouse on Feburary 16th in collaboration with Rhizome and Friends With Benefits. The conversations, coordinated by Outland's editor-in-chief Brian Droitcour, included "Exit Through the Gift Economy: Crypto & the Institution," which featured Michael Connor, artistic director at Rhizome; artist and writer Aria Dean; LACMA Art + Technology Lab Program Director Joel Ferree; and EPOCH Gallery founder Peter Wu+. A second conversation on compression, loss, and racial bias in the mp3 format took place between critic Geeta Dayal and Ryan C. Clarke, ahead of Clarke's Shirley Sound & Further Processions, a multimedia artwork commissioned by Rhizome that "considers what is lost in Black music as a result of its digitization and compression." The evening was rounded out by DJ sets by Alima Lee and Bapari, organized by Friends With Benefits.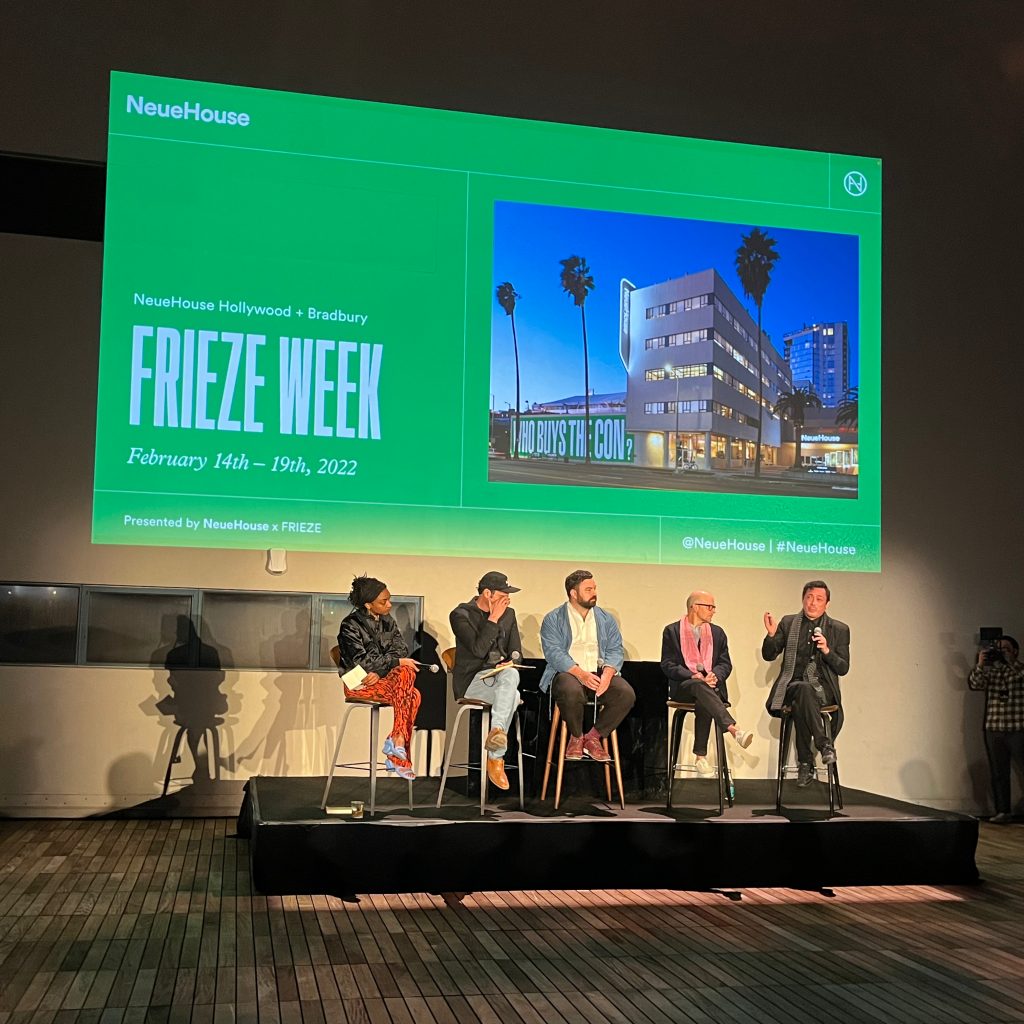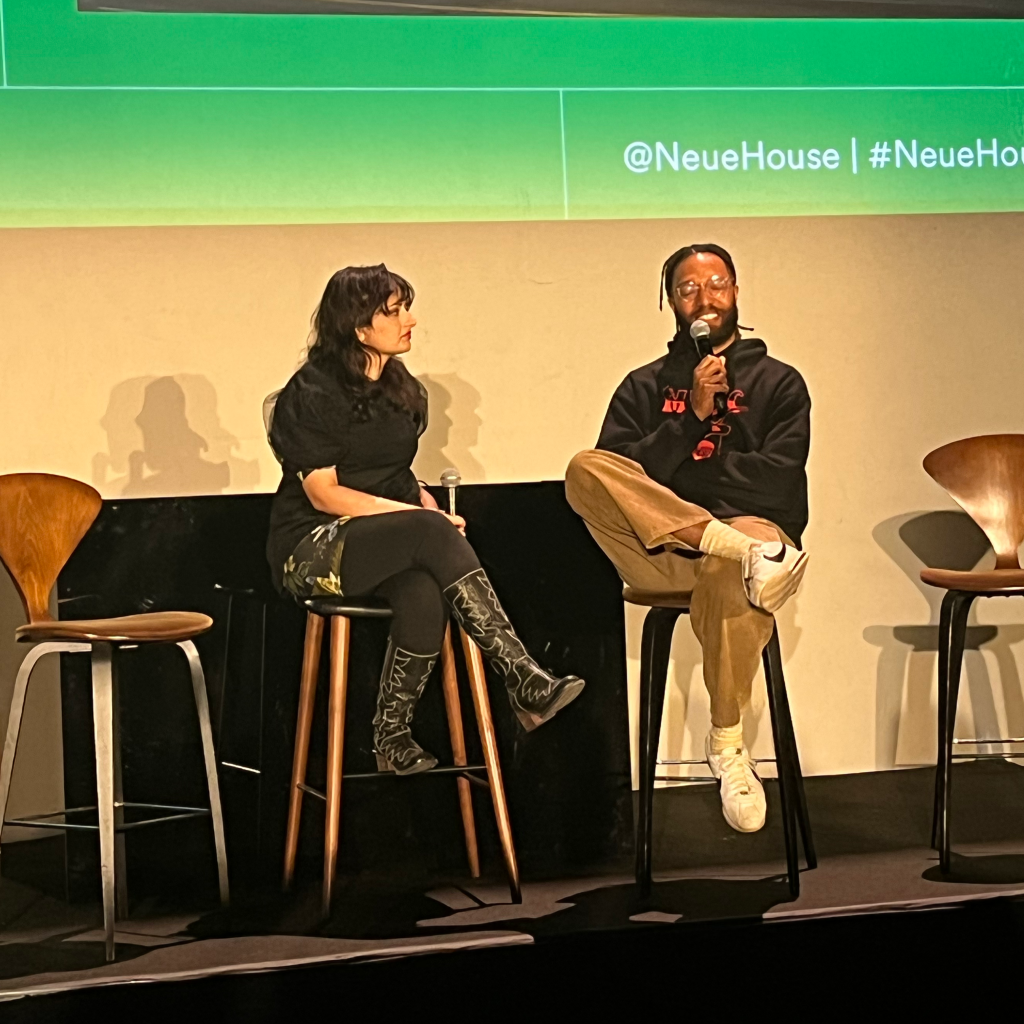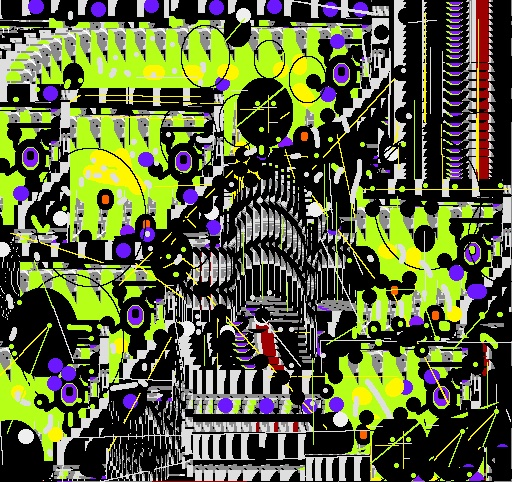 One booth at Frieze was selling NFTs. Los Angeles gallery Marc Selwyn Fine Art presented digital work by William Wegman and the late Lee Mullican. Wegman's drop consists of seven NFTs, one unique and six in editions of three, all featuring his beloved Weimaraner dogs as counters in animated loading icons. The dogs sit, as if waiting for pets and treats, mirroring the waiting humans do while their devices are at work. It's a bit on the nose, but a cute genesis series for a well-known conceptual comedian. The works by Mullican are the fruits of experiments with computer painting software at UCLA in the mid-1980s. The cascading forms in 8-bit color schemes approximate the artist's use of a palette knife to create repetitive patterns on canvas, while taking it in new directions. An exhibition at Marc Selwyn late last year juxtaposed Mullican's digital works with his paintings. At Frieze both the Wegman and Mullican NFTs were presented on iPads mounted on plinths with the help of magnetic tablet stands. Both collections, minted with support from Verisart, are available on OpenSea. Also at Frieze, Pace Gallery was exhibiting four already minted tokens from Leo Villareal's Cosmic Reef, a generative project created by the artist and released on Art Blocks last month. Read a review of Cosmic Reef on Outland.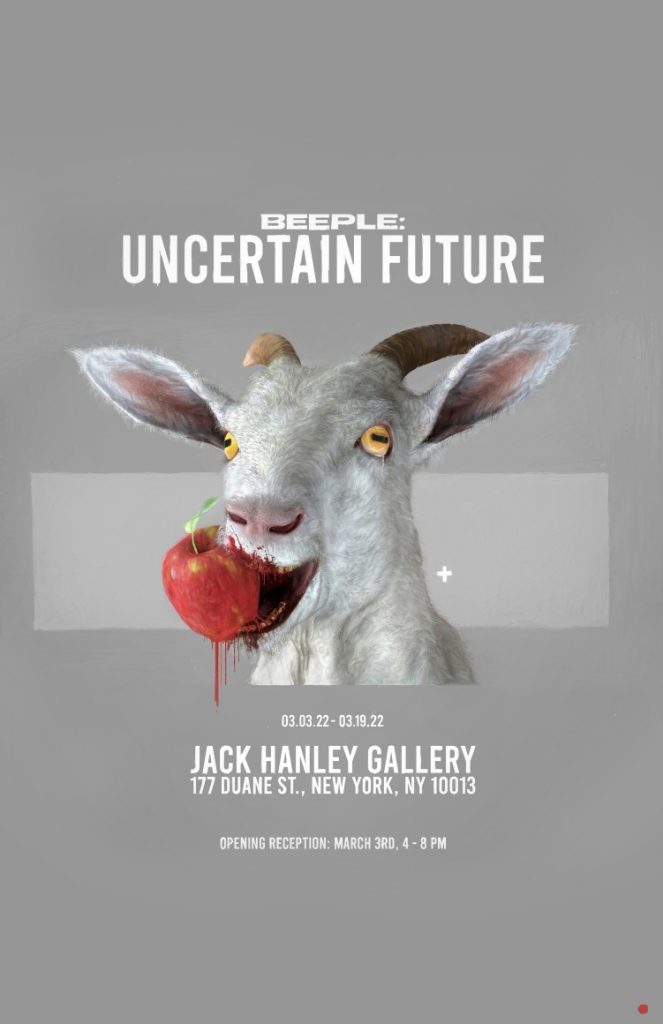 Jack Hanley Gallery announced a Beeple exhibition, titled "Uncertain Future," opening March 3 at their space in New York's TriBeCa neighborhood. In the press release announcing the exhibition, the gallery makes note of Beeple's work with digital media and NFTs. However, it seems Jack Hanley is interested in trading physical work through more traditional means. The gallery stated that the exhibition will "feature prints of digital renderings, drawings, and paintings" instead of the digital objects themselves, reflecting the ongoing reluctance of traditional galleries to enter the NFT space.
---