You often hear people say NFTs will revolutionize the art market as we know it, or make it obsolete. But Jehan Chu believes NFTs will be assimilated by existing cultural infrastructures, which he sees as the most effective mechanisms for identifying value and writing art history. Chu began his career as a front-end developer and entered the art world by working at Sotheby's in New York and Hong Kong. He left that position to open an art advisory, helping private collector make informed acquisitions. In 2013 he became interested in Bitcoin, and organized an Ethereum meetup in Hong Kong shortly after the whitepaper was published in 2014. Since 2016 his focus has been VC Kinetic, a fund that invests in crypto startups. He met with Outland to discuss how the art world and the NFT market are learning to coexist, and to share some gems from his own collection—from the genesis NFTs of painters and sculptors to works by emerging artists who are innovating with digital media.
Attitudes toward NFTs from the fine art world are changing quite rapidly. The predominant sentiment used to be skepticism or revulsion. Now it's burgeoning curiosity. We've hit an inflection point where people are no longer as resistant. They realize that web3 is here to stay.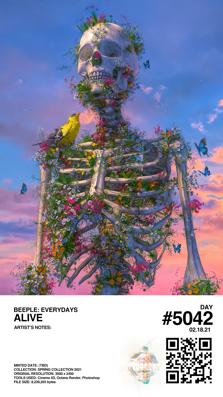 The biggest challenge for the NFT collecting space is that it's incredibly nascent. It evolved so quickly that there wasn't a whole lot of education around what people were buying. Purchases were made based on a combination of visual and financial factors—"that looks cool" and "that's going up in value." Unfortunately, people made so much money speculating on NFTs in the early days that financial value became the proxy for fundamental value.
A lot of collectors in the NFT space had never collected art before. They didn't have experience, and didn't take time to really learn about what they were buying. They were buying speculative potential. Arguably, they were buying into a community. There's value in that community experience of doing something together, but it's fleeting value. A lot of the communities that supported the initial wave of interest and bolstered the prices of high-value projects disappeared when the price receded. What's necessary for the next iteration of the fine art NFT market is education. It's as simple as that. NFT collectors need to learn more about art and why some art lasts. They need to go through the same type of processes that new collectors in the traditional art world go through.
I advise emerging artists working with digital tools—the Ash Thorps and Beeples of the world—to learn about the traditional fine art world and make sure their work is included in it. The art world is not going away. It's never going to be fully overturned by web3. The ambition of most artists is to be included in history, and traditional institutions—the museums and the major private collections—articulate that history, along with critics, curators, and art historians. OpenSea doesn't do that. Whales don't do that. Most NFT artists, for lack of a better word, are still relatively inexperienced in the fine art world and its dynamics. They need to understand it and make an educated decision about whether or not they want to go down that path. If they do, I try to help them by introducing them to collectors, curators, museum directors, and so on. Without helping NFT artists assimilate, their work will be lost within two generations.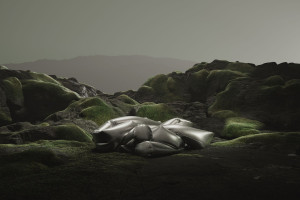 Ash Thorp is probably one of the finest digital artists of his generation. He's quite famous in the field of digital commercial art. He's done key visuals and concept work for movies like Ghost in the Shell, and he designed the latest Batmobile. He also has a fine art practice. His work is quite cultural and political. His vocabulary mixes cyberpunk and dystopian elements. He's already at the top of his game in terms of aesthetics and visuals, and he's becoming more critical about his focus and his message. I see him as a web3 Matthew Barney.
I have Andres Reisinger's Hortensia Chair, and an NFT from his Pollination collection, which evolves Hortensia. His background is in digital object design. He worked with Ikea, creating renderings for their catalogue, which is now almost entirely produced digitally rather than photographed. He makes physical versions of his digital work—I have a bench—but his practice is interesting because the natively digital concept comes first, and not as a sketch. In traditional design we often see digital models as a pathway to the physical object. Andres's process is reversed. He's a digitally native designer who brings some of his creations into the physical world, which I think is super fascinating.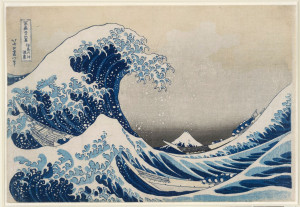 The pride of my collection is Andy Warhol's untitled [Flower], which he drew on an Amiga computer in the mid-1980s and was sold at Christie's last year as a tif file to benefit the Andy Warhol Foundation. Some people think the original pixels or the actual oil and canvas that the artist used are what make something art. I think that's silly. Retouching and conservation are normal aspects of maintaining works. The spirit of the Warhol NFT is absolutely true to the artist and his practice. The foundation enhanced it for contemporary technology and that's fine with me. The Great Wave by Hokusai, minted by LaCollection, is really meaningful because the NFT gives me the ability to collect something I wouldn't be able to collect otherwise. It's a new way of building a collection that you can live with in the metaverse. When I build a house in Decentraland I will absolutely put my Hokusai on the wall.
Refik Anadol has done a lot of installations. Machine Hallucinations – Space : Metaverse (2021) is the one that defined him as an artist. And it's the first immersive installation to be sold as an NFT. The NFT gives you the right to install the work; it's a certificate of authenticity, like you'd have for a Yayoi Kusama installation. I also have stills of Machine Hallucinations that he has released as NFTs, though I think of those as prints. I'm supportive of his work, so when he has a drop I'll try to participate. But the installation is the most important one for me.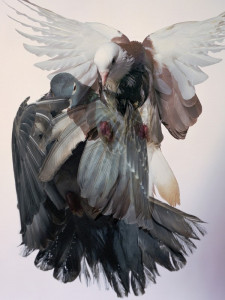 I have Block 8 of Robert Alice's Portraits of a Mind, which is a very significant piece, because it's from the first NFT series to be sold at a major auction house, at Christie's back in October 2020. That's what opened the door for Beeple. For all the negative reactions to Beeple's work, there are quite a few positive ones as well. Hans Ulrich Obrist has very publicly supported his work and featured him on panels. Carolyn Christov-Bakargiev installed Human One (2022) at Castello di Rivoli in Turin. This year and next year you're going to see a lot more top-tier institutional inclusion of his work. The initial reaction to Beeple was more about the price than the work. The fine art world didn't like an artist they didn't know selling for such a high price. They looked at one image out of thousands and didn't take the time to try and understand his practice as one should. Beeple is one of the most important artists of his generation, because he represents the bridge between digital art and sculpture. Human One (2022) is the most important piece of art in the last twenty years, because it's fully continuous between physical and digital. The work is dynamic. It will change and be updated in conversation with society for the duration of the artist's lifetime. So it's something like an On Kawara, in terms of being a dialogue between artist and collector, or artist and public. It's not just like a twirling box. It's a monument to what art can be in web3.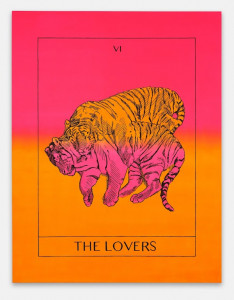 I also collect artists who work in other mediums and are experimenting with NFTs. Mieke Marple is a pioneer. She was one of the earliest people from the fine art world to dig into NFTs. Marple has a series of tarot cards that she first made as paintings. She published them as NFTs at the beginning of 2021. Urs Fischer got an early start, too. He made a big commitment to the medium and understands how he wants to exist in this space. His Chaos series will be seen as a really significant entry of the fine art world into NFTs. I find them incredibly beautiful as digital objects themselves. I also collected Roe Ethridge's first NFTs. They're beautiful images, and I want to support good artists who want to come into this space.
Making NFTs is a choice for artists. It's a way for them to expand their practice. It's not for everybody, and it doesn't have to be. But institutions need to pay attention to NFTs. They are observers and protectors of culture, so they have to be involved in new developments. NFTs have facilitated the greatest expansion of collector activity we've seen. Hundreds of millions of NFTs have been collected by people who never thought of themselves as collectors before. And whether or not we like what they've collected, the fact is that more people are now active in culture. We're starting to move the needle toward educating the public about the responsibility of preserving culture. And we're giving them an easy UX, an affordable, inclusive way to participate. Collecting used to be about white walls and champagne cocktails. Now it's more open. It's important for the public to understand that opportunity and responsibility.
—as told to Brian Droitcour
---