Digital art lives alongside painting and sculpture in the collection of Shahin Tabassi. The Los Angeles–based businessman started collecting contemporary art in 2018 and got into NFTs during the pandemic. His tastes are wide-ranging, but he gravitates toward dynamic work with a strong, direct message. While Tabassi thinks about collecting primarily as a way to create a visually intriguing environment at home, he's also fascinated by the social world of art and has actively made connections among the various communities he belongs to. He has created opportunities for collectors he's met at galleries and museums to learn about digital art, and made his plot in Decentraland available for "The Artist Is Online," a virtual exhibition of NFTs organized by Anika Meier for König Galerie in 2021. Last month Tabassi presented "A Record of Time," the first curated NFT release for Avant Arte, a publisher of digital and physical editions, featuring works by Six N. Five, Sarah Zucker, and Grant Riven Yun; the latter's NFT was accompanied by a physical print. Below Tabassi shares the story of how he got into collecting, describes a few favorite pieces, and discusses the need for display technologies to catch up to the market for digital art.
Takeshi Murata: Larry Cove, 2021
I was in middle school when I started creating digital art. It was the days of slow internet and pirated software. I spent my summers at the tech school across from my father's work, learning how to use 3D Studio Max and Adobe Photoshop. When I got to high school, I was heavy into hip hop and b-boying. So, naturally I grew fascinated with street art as well. A blog called Wooster Collective kept me up to date with new pieces around the world along with the Urban Art Association, which became the primary place for discussing and trading street art on the internet. I didn't have much money at the time, but I kept tabs on the forums, tracking artist editions and what they were worth. Fast forward a decade or so, I began collecting prints on the secondary market by Banksy and Invader—two artists I'd grown up admiring.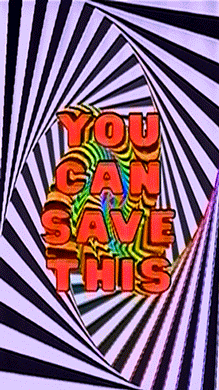 At first, I was looking to fill some of the white space in my home. I didn't grow up around art and it's still magical for me to walk through a hallway filled with paintings and drawings. Collecting became an obsession. I bought my first painting in 2018 and soon after received a complimentary pass to the first edition of Frieze Los Angeles. I came out of the fair with a broader interest in contemporary art. I started going to gallery shows more often, asking about works I liked. I asked about works I didn't like as well, just to gain a deeper understanding of the art. I'd travel to fairs when I could, creating a list of artists who captured my attention, and then used Instagram and Google to learn more about them.
I had only been collecting for a few years when everything shut down because of Covid. That's when I regained interest in digital art. I was fascinated by the idea of digital art displayed in harmony with painting and sculpture. I began telling people about NFTs in a WhatsApp group for traditional art collectors. As I became more vocal, I developed a reputation as an art collector who understood the NFT market. I was flooded by DMs on Instagram asking for my opinion on what to buy, but my interest was more centered on the potential for the technology, collecting great art, and helping onboard traditional artists into the space.
When I began collecting NFTs, I had no clue of the frenzy that was to come. I just wanted to jump in and experience it. One of the first originals I bought was a Pak one-of-one. I wasn't in a financial situation where I could throw money at things without thinking about it, but I had to rely on my intuition. Some works have a presence that sparks the imagination in just the right way. I got that feeling from Pak's art. I was interested in what they were doing, and the performance of every auction on Twitter. This is how I came to understand that every bidder and owner of the work made their mark on the art through the blockchain. I was learning through their work, so it was meaningful for me to collect their art.
Last year in Miami during Art Basel I saw an artwork by Sarah Zucker at the NFT Now event. Her work was called You Can Save This [2021]. To me this was an elegant response to Twitter critics who reduce digital art to a saved file rather than a meaningful piece of art. Sarah's confident and vibrant approach really resonated with me. The next day at Art Basel I sat down in the collector's lounge with my laptop to bid in the auction. I realized I didn't have access to my personal wallet, just one I shared with a friend, so I frantically bought some ETH and put in a bid at the last second and won. That experience was special because my first encounter with the work was at the event. I'm very much in favor of experiencing art in person. It helps distinguish what I love from what I like.
When I saw Andreas Gysin's art it reminded me of pirated software. When you downloaded a program, it was accompanied by a text file by the group who ripped and distributed it. You'd see their logo drawn out in ASCII art. So, when I saw Gysin's work, I wanted to bring attention to this brilliant expression of art. It's futuristic in a cinematic way, but it's nostalgic as well, for a time when we were using text-based operating systems.
I think of Takeshi Murata's Larry Cove [2021] as a dynamic sculpture. I love how enthusiastic people are when they see it. There's something universally satisfying about watching three-dimensional forms collapsing into the floor. Austin Lee's Racing [2021] made me feel enamored by the idea of a painting in action. His use of the airbrush is reminiscent of virtual modeling, where you draw with paint in 3D as if it were squeezed from a tube. I imagined juxtaposing the artwork with paintings that use airbrush as well.
I'm excited by the possibility of displaying digital art. But it's frustrating because the solutions are coming at a snail's pace. I got a Samsung frame and tried to loop a work on it, but the user interface kept popping up while it played. Hang a painting—boom, it's on display. But with digital art it isn't always straightforward, and that stifled my momentum. As a result, I'm now more focused on displaying the works I already have, rather than adding more to my collection. I'm not trying to hoard. I got into collecting because I wanted to live with art. While I may not currently live in an environment where I can display my entire collection, I'm inspired to make that future a possibility.
I watch a lot of funny and unusual videos on YouTube. So I was drawn to Cool 3D World's Tennis [2021]. They put so much love into crafting a story as well as creating a wonder-filled signature world for their art. Another work I've collected is by David Lewandowski, going to the store [2011/2021], which was a viral sensation on YouTube. I remember watching it with my best friend who I lost touch with when I went off to college. Every so often we would reunite and share videos as a way of connecting. When David put it on Foundation, I was compelled to collect the work.
I'm not a crypto whale. I didn't buy a ton of crypto when it was cheap and become wealthy overnight. So, often while bidding for works, I end up going up against the heavyweights. I went all the way with going to the store and I was happy to because it means so much to me. A lot of my collecting is nostalgic. These memories are a part of me, and I'll continue to do my best to honor them.
—as told to Brian Droitcour
---