How can the generative art community foster innovation and creativity, and a better ecosystem?
It has been exciting to see a robust community form around generative art in recent years. Artists and collectors alike have approached the space with generosity and curiosity. What used to be a niche underappreciated art form is now being taken seriously by galleries, auction houses, and institutions. We have seen some exceptional work produced by artists and a strong market created around it. However, there are several things that we can improve upon as a community as we grow. I would like to make a few heartfelt requests to both artists and collectors in order to foster a more thoughtful and engaged community that values the art itself and encourages innovation and creativity.
Dear Artists,
Venture beyond the norm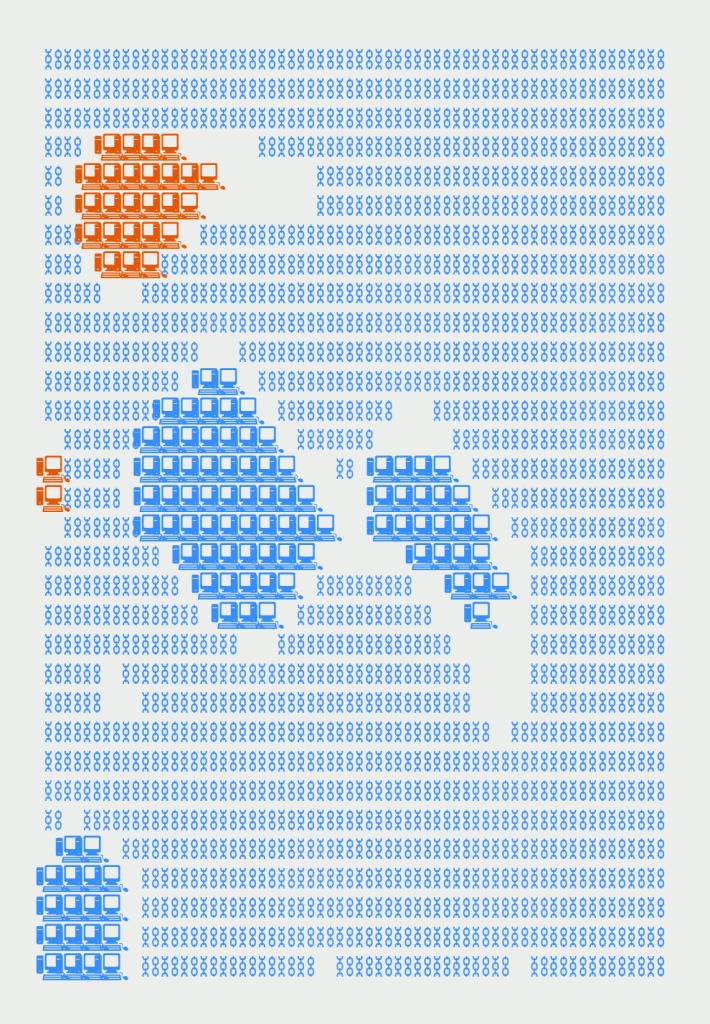 We have seen a good deal of generative art mimic nineteenth- and twentieth-century art movements, recreating particular textures, styles and visuals with code. While those are impressive technical achievements, it would be more exciting to see artists move past those aesthetics and develop new ones. Many of the most popular generative art projects have static outputs. Static art is easy to consume on social media, has a strong proven market, and makes great prints. However, in a digital medium, artists have the opportunity to explore dynamic art, interactive art, audiovisual elements, or even use the blockchain as a mechanic with the art. Passages (2023) by Aaron Penne and Boreta is a meditative audiovisual installation. Deafbeef's Synth Poems (2021) harkens back to earlier forms of technological art by simulating the audiovisual effects of oscilloscopes. Terraforms (2021) by Mathcastles studio is a map of a virtual world that collectors can modify by changing the on-chain data. The outputs of Harm van den Dorpel's Mutant Garden Seeder (2021) evolve over time, based on the similarity of the seed block hash and the current block hash. These are all exemplary dynamic projects.
Curate outputs
With the launch and growth of platforms like Art Blocks and fxhash, long-form generative art became popular and led to artists exploring this new generative art model. Projects with more than five hundred outputs that have done justice to this new model can be counted on two hands—Ringers (2021) by Dmitri Cherniak and Cargo (2023) by Kim Asendorf are some rare examples, and they represent the culmination of years of practice. Both projects are cohesive across one thousand outputs, with a diversity among individual pieces that never feels repetitive. But long-form generative art is extremely demanding and very challenging to get right. Artists should consider curating the outputs to maintain quality for their algorithm and to have their vision realized in the way they intended. Curation can lead to well-balanced and diverse final outputs without the inclusion of subpar outputs. Themes and Variations (2023) by Vera Molnar in collaboration with Martin Grasser, and SOL 365 (2022) by Cory Haber are excellent examples of curated series where the artists selected the outputs to be minted and sold.
Long-form generative art is extremely demanding and very challenging to get right.
Experiment with distribution models
We have a wide array of possibilities with generative and algorithmic art and there is room to explore novel ways one can create and sell these works. In QQL (2022) by Tyler Hobbs and Dandelion Wist, collectors become co-creators, running the artists' algorithm and selecting the output they want to mint. Harvey Rayner's Quasi Dragon Studies (2023) invites collectors to purchase "tiles" and assemble them into a composition, which cannot be broken down back into the original tiles. Both projects demonstrate how collectors can become involved in the creation process. Artists should try exploring new methods of creation, co-creation, and distribution.
Artists should try exploring new methods of creation, co-creation, and distribution.
Get involved with the community
An artist has no obligations beyond making and distributing their art. However, engaging with collectors, curators and other artists in this space can lead to many creative benefits. The cross-pollination of ideas, perspectives, and thoughts can happen when interacting with the community, whether online or in person. Building those connections can lead to new insights and opportunities for growth. Artists building communities on their own Discord servers is a great alternative to mainstream social media. The Generative Artists Club, a Slack group founded by Aaron Penne, is a haven for artists to interact and learn from each other. Art Blocks's Marfa Weekend, Bright Moments city events, and other local gathering and exhibitions are great in-person opportunities for connections.
Dear Collectors,
Take an interest in the art
Appreciating and learning about the artworks you collect should be a given, right? We see countless threads, conversations and Twitter Spaces about particular projects, their floor prices, and their "blue-chip" potential. But it is surprising how scarce discourse around the art itself is. Talk about what appeals to you. Try to understand why a project appeals to others. Have conversations around the concept, traits, and palettes of the project, and the artist's intentions and processes. Right Click Save, Art Blocks's journal Spectrum, Le Random's editorial, the GrailersDAO community, and the JPG Discord are some great resources to check.
Try to understand why a project appeals to others.
Do your own research
Generative art has a rich and fascinating history and taking interest in that history will make you an informed collector. I have interacted with individuals who own pieces from a collection and have no idea what the project is about. Reading the artist's statement about the project and looking at their previous works will over time help you make your own decisions, instead of relying on influencers and social media hype. Making independent choices can lead to growth as a collector. Following this process might even help you make better investment decisions, if that is your goal.
Collect with intention
While things that are rare and scarce will always appeal to humans, I think we need to move past the 2021 mindset of collecting pieces based on their rarity. This includes both rarity rankings displayed on marketplaces or artist-defined trait rarities. Spend time with a collection, go over all the outputs, and try to make a note of what appeals to your senses instead of looking at rarities in the metadata. Even beyond visuals, think about what emotions a particular piece sparks in you, what it makes you think about. This should also be applied to collection and curation of sets. While collecting based on a single color palette is fun and easy, try being more intentional with making those sets and growing your collection. One collector I have deep admiration for is Kate Hannah. She has assembled a six-piece set from Aaron Penne's Return (2021),Jeff Davis's Color Study (2021),NumbersinMotion's Watercolor Dreams (2021), and two projects by Alexis Andre. The grouping captures the feeling of meditative warmth that these different collections share.
It is difficult to think rationally when money is involved.
Create space for criticism
It is difficult to think rationally when money is involved. I have been guilty of that myself at times. But when people raise criticisms of collections you own, allow space for debate rather than rushing to defend your bags. People often confuse criticism with FUD (fear, uncertainty, and doubt) or spreading negativity. In fact, critique plays a significant role in artists developing their work and audiences deepening their understanding.
Get involved with the community
I am appealing to both artists and collectors to prioritize social interaction. Much can be learned by talking with other collectors and artists. We can develop a deeper appreciation of artworks and the humans behind them by playing a more active role in the community, whether online or in person. Communication is also a part of open debate, learning about art, and developing new ideas. It's essential to pursuing the other goals I've named here.
Plutonium Fitzgerald is an artist, collector, and a member of the curation committee at FingerprintsDAO.
@plutoniumfitzg
---